FJ20ET turbo 1990cc DOHC 16 valve four cylinder.
Haltech F9 fuel computer,
Running 10 PSI boost,
Turbosmart BOV fitted,
"RedLine" oiled pod filter,
2.5" exhaust to 3" tail pipe, engine internals are overhauled standard items (balanced con-rods, machined crankshaft, hone bores, new bearings etc) with what
is presumed to be the standard T03 turbo marked "Nissan Motor", boost around standard @ 7-8 PSI, BOV and "Trust" relief valve fitted.
Holley Red fuel pump + feeder pump with surge
tank and primary fuel filter,
Calsonic Pulsar N13 radiator,
custom mounted a blow thru 12" electric fan from an N10 Datsun (reversed polarity & blade),
Driveline: Nissan R32 Skyline 5 speed, R180 3.7:1 diff.
Brakes & Suspension: 240K struts and front 240k Sumitomo calipers on 253mm disc,
rears 9" drum (dual remote fill resevoir + booster),
K-Mac adjustable camber & caster with New front suspension setup, lowered Formula coil springs,
180 lbs, rear springs are 800 lbs.
Performance: Peak power is 126 rear wheel kW @ 165 km/h and tractive N 2919 @ 150 km/h.
Air/fuel mixtures richened up at the top end @ 10:1 whereas lower in the rev range they ranged around 13.1:1 to 11.4:1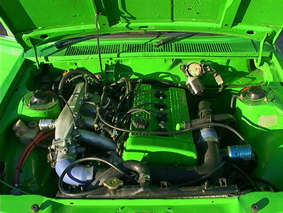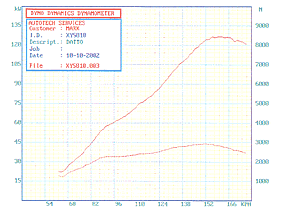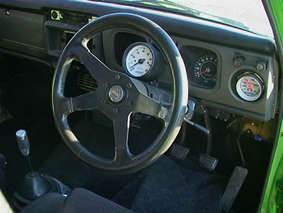 Simmons V4 15" wheels, Bright Green Paintwork.


Honda Prelude seats, 3 3/4" Autometer
tacho, autometer boost gauge, VDO water temp, mechanical oil pressure gauge,
Clarion 50W x 4 CD head unit, JBL 6 1/2" front splits
Momo steering wheel, custom trim.