FJ20ET turbo 1990cc DOHC 16 valve four cylinder.
FJ20ET motor and 5 speed from DR30 skyline front cut.
Subaru Blue with purple pearl Cam cover and Inlet manifold, Standard Engine Internals,
Haltech E6K Engine management,
TurboneticsT04E 57 trim split exhaust housing turbo,
45mmTurbosmart External wastegate,
Custom Stainless Steam pipe split exhaust housing exhaust manifold,
Turbosmart Type 2 Blow off Valve,
Custom polished front mount intercooler with 3" polished intercooler plumbing,
3" throttle body, Bosch bigger injectors ,
Stainless Dump pipes, 3" mandrel exhaust ,
Custom stainless ½" fuel lines,
Custom Stainless fuel rail,
Custom stainless surge tank,
Bosch Motorsport high pressure fuel pump,
Carter low pressure fuel pump,
Malpassi Rising Rate Fuel Regulator,
10.5mm custom leads,
4 bosch coils on custom mount,
4" mouth K&N air filter,
Remote oil filter setup,
Custom Oil Cooler,
Custom engine brace,
Braided lines and earls fitting used mostly everywhere,
All MOD plated,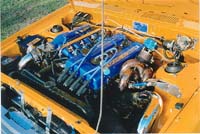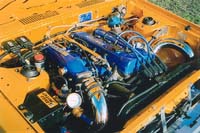 Performance: With 200,000plus km's on the clock managed (236kw)317hp @ the wheels on 16psi.
1/4 Mile: 12.6 @ 111mph
Driveline: Nissan DR30 RS 5 speed, Centerforce Clutch,
Locked 4.11 ratio 10 bolt Series 3 Bluebird Diff.
Brakes & Suspension: Skyline front disc's and calipers,
standard rear, modified brake booster,
Skyline Springs and Shocks Front/Rear.