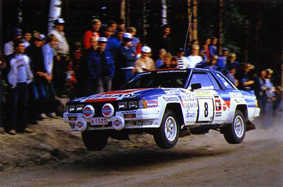 Enter the FJ24 powered BS110 Nissan 240RS:
In 1982 NIssan created a thoroughbred Racing engine developed for Group B Rallying. It originated purely as a racing motor known as the FJ24, to be used in the early Group B 240RS RWD Rally cars. It was a naturally asprated version of the FJ20 with the capacity increase to 2.4litres and made around 177killowatts @ 7200rpm and 235Nm @ 6000rpm torque in earlier model guise(72° cam). Later models were fitted with a more aggressive 76° cam with factory optional dry sump and made 207 kw @ 8000rpm and 264Nm @ 6200rpm torque.
The FJ24 is unique among the FJ Family in that it used a Twin Webber carburator fueling setup instead of Electronic fuel injection. The FJ24 also used larger ports, thicker conrods and much shorter pistons which resulted in a very high compression ratio of 11.0:1.
This motor was developed soley for the purpose of rallying.
But unfortunately due to rule changes in Group B Rallying rear wheel drive cars like the 240RS(Gazelle), Escort and Celica became obsolete compared with. 600HP turbocharged All wheel drive vehicles like the Audi's Quattro and the Twincharged Lancia Delta S4. The FJ24 had a very limited production run in making the BS110 240RS the most collectable of all the FJ powered performance cars.
Model: 1982 BS110 Nissan 240RS
Engine: FJ24 2340cc DOHC 16 valve four cylinder
Power: 177kw @ 7200rpm
Torque: 235Nm @ 6000rpm
Compression ratio: 11.0:1
Weight: 970kg


This site is created by Turbo Creations -M Drach 2000/2005.

Information for the above article has been researched from many sources including,Nissan Motorsports, Nissan Motors Japan, Australian Touring Cars, Option2 magzine, Nissan related websites, World Ralllying and thanks to the many FJ20.com readers and contributers.
We welcome any reader input for the above information and are always updating the site.-Regards FJ20.com Webmaster